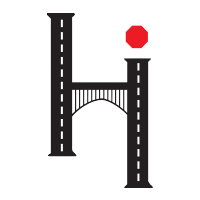 Highway Improvement, Inc.
road and bridge maintenance
PO BOX 1803 - SIOUX FALLS, SD 57101 - (605)335-0786
Highway Improvement, Inc.
road and bridge maintenance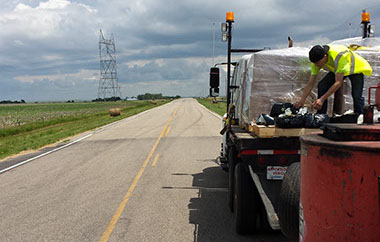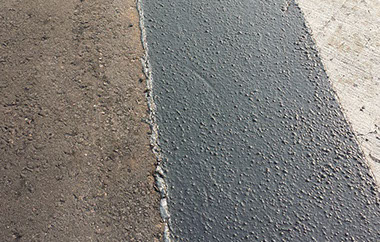 Crack sealing is the foundation of a pavement preservation program. The function of crack sealing is to restrict surface water penetration into the asphalt pavements sub-base and base regions. Water seeping through the cracks will soften the base materials causing weak spots. We rout the cracks with carbide tipped cutters to a 1:1 ratio, this creates clean surfaces and a reservoir allowing the sealant to expand and contract with the pavements movements. Next we clean the freshly routed crack with compressed air at a rate of 125 CFM. Finally we overband seal them with hot pour polymerized asphalt sealant. Copies of local DOT specifications are available on request.
Highway Improvement, Inc. is a certified installer for several types of bridge/structure joint systems including polymer modified asphalt growth joints, polymer modified asphalt plug joints and various types of elastomeric compression seals. These types of joints can be used in most expansion joint applications, such as bridges, parking structures, or buildings.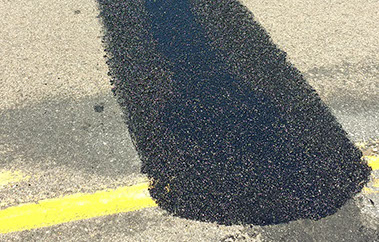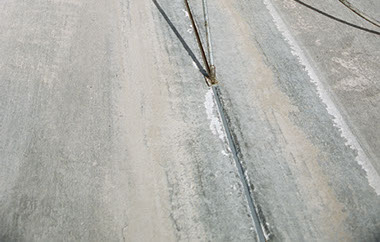 Asphalt repair mastic is a blend of quality selected asphalts, polymers, aggregates and binders. The mastic is spread across the faulty crack and level with the surrounding pavement surface. It is applied from the rear of a thermostatically controlled mastic mixer and is hand squeegeed to create the smooth and level repair of the faulty joint. Ride qualities and repair are restored to the roadway.
Complete specifications are available on request.
As with asphalt surfaces, the sealing of concrete is critical to the overall life of the pavement as well. Though maintenance is performed less frequently, it is vital to preserve your major initial investment.
Highway Improvement, Inc. is a specialist in both resealing of concrete surfaces and the initial sealing of new pavement joints. We have vast experience with all types of sealants, from hot pour and silicone sealants to preformed neoprene seals.
Highway Improvement, Inc. has been the leader and innovator in the pavement and bridge maintenance industry for over three decades. Founded in 1984, the first years were primarily involved with asphalt crack sealing. Highway Improvement, Inc. completed the first contract crack sealing projects with the City of Sioux Falls, SD and the South Dakota Department of Transportation.
Throughout the years, Highway Improvement, Inc. has been nationally recognized as a leader in the pavement preservation industry. Many of the new services and techniques we have introduced into the Upper Midwest Region have become standard maintenance procedures. To this day we continue to work with numerous state transportation departments, county governments and municipalities, as well as private businesses and homeowners.
It remains the purpose of Highway improvement, Inc. to provide our customers the highest quality and most advanced products, methods and services available in the pavement preservation industry.
Highway Improvement Inc
PO Box 1803
Sioux Falls, SD 57101
(605) 335-0786